About the author
Digital sales in banking is gaining traction enticed by recent events around the world
Over the years, banks have been investing in digital banking and omnichannel availability to their customers. Some have been successful, yet some are still struggling. However, the heart of digital profitability – onboarding and sales online in so many cases still do not deliver.
Digital banking report stated in the time before the pandemic that over 90% of online onboarding processes were abandoned, which is a lose-lose situation for clients as well as for the banks. Following the ever true saying "Be where your customer is", it is no longer a matter of bank's choice, but of survival, to enable digital onboarding of new customers and allow them to apply for and eventually utilize banking products and services without visiting a branch.
Why does digital banking selling still fail?
While there are many reasons, different from one bank to another, a few have surfaced as the most common:
Legacy systems– if you are a bank with a long tradition, chances are you have many processes and systems in place suitable for branch business, not online. And simply exposing a nice interface on the web does not work with the other parts of the process.
Expecting too much– banks are used to asking for a lot of data from the customers when they enter the branch, and the employee is writing it down. This does not work in digital – Revolut and other Fintechs knew it, and proved it can be simpler.
Long decision time– even if the customer endures all the steps and finds his/her way to the "submit" button, the request enters the maze of internal bank's processes and takes forever to be approved/activated.
No human assistance during the process, not being able to pause and resume the process.
So, how to make rather than break the new relationship?
Experience is everything – from the first contact onwards. The way a new customer perceives your touchpoints is what triggers emotions and creates preferences that the customer does not bother to rationalize. Our touchpoint applications turn your omnichannel banking products and services into superb experiences across self-service and assisted touchpoints, equally user friendly and native on all screen types and sizes.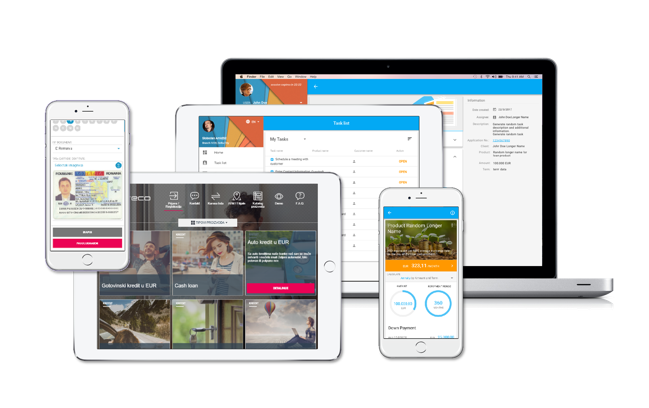 Once the customer chooses what they need, the process is then handled by the IT solution designed specifically to execute onboarding and sales – Digital Origination by Asseco, and the onboarding can be completed in under 10 minutes!
Digital Origination by Asseco is an AI powered sales and underwriting system that provides full flexibility in offering of bank products, services and bundles, enabling short time to market and full control, transparency and automation of origination processes for both assisted and self-service customer touchpoints.
AI-powered product catalog for personalization and conversion boost
Digital Origination features a flexible and modernly designed product catalog, which personalizes the view based on the customer segment and provides the next best offer for your customer. If a new customer applies for a loan, the system can implicitly add current account and other elements such as credit/debit card for customer's review and acceptance, so everything is delivered in a package. The flow similar to adding products into a cart on e-commerce websites, which we are all familiar with nowadays, brings a sense of simplicity and encourages customers to proceed with ease.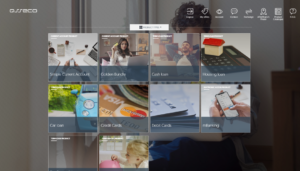 To provide their ID details, answer a KYC questionnaire, and further questions to a bank agent, the customer just needs a few more minutes for document OCR, data verification and a video chat with the agent before the application proceeds to the phase for document signing. Of course, the process is carried out in line with GDPR, eIDAS, AML, and other relevant regulations and standards. Depending on the legislation and bank's requirements, the digital onboarding and origination journey can be completed fully digitally with Digital Origination, while the option for the involvement of a trusted courier, or a branch visit, is also supported.
With onboarding, or on separate occasions, customer can buy even complex banking products, such as a loan. Digital Origination's loan calculator with graphical aids makes the process transparent and easy to understand.
Loan calculator with user-friendly dashboard for the customer: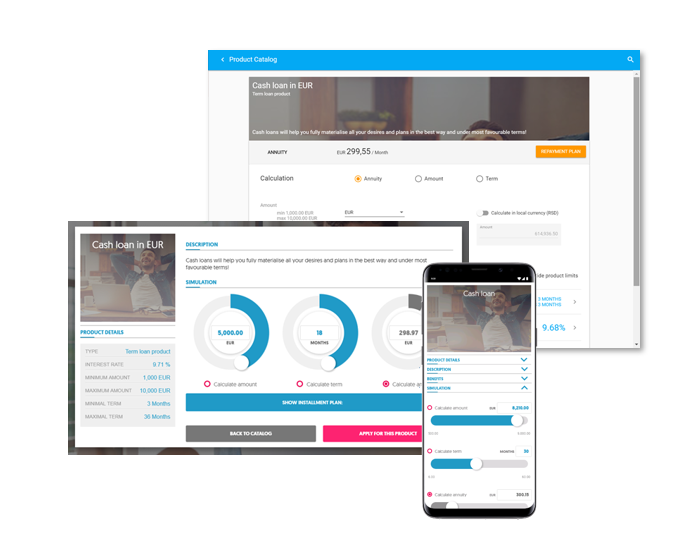 To align the internal processes and make them faster, Digital Origination provides an extensive set of underwriting features, like process engine and BPM, decision engine and many other.
Got you interested?